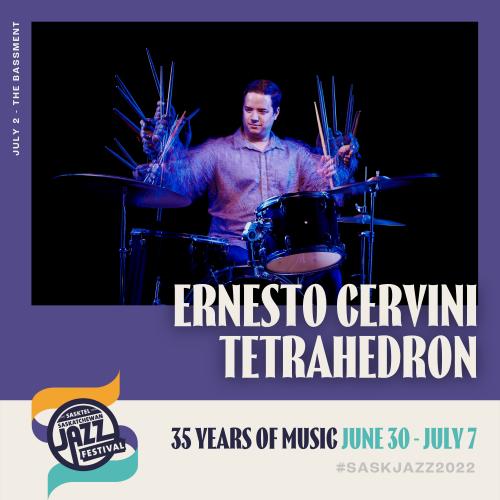 SaskTel SK Jazz Festival: Ernesto Cervini - Tetrahedron
Sunday, July 3, 2022
8:00 PM / The Bassment
Ernesto Cervini - Tetrahedron
Ernesto Cervini is one of the most exciting and electric drummers in North America. He has been leading the wave of Canadian modern jazz for the last 10 years, whether it's with his quartet, sextet Turboprop or the trios Myriad3 and TuneTown. Tetrahedron is an exciting new addition to his roster, featuring 2 of Canada's top improvisers (Luis Deniz on Alto Saxophone and Rich Brown on Electric Bass), and special guest, guitar phenom Nir Felder from New York City.
The music of Tetrahedron is funky and forward-thinking. The group plays originals as well as rearranged standards in an engaging, toe-tapping, highly entertaining way which has been described as "brilliant" and "masterful". It's a groovy, energetic trip!
Interested in staying up to date on all things SaskJazz? Newsletter signup here!
Prices shown indicate where pricing starts. Pricing for specific seats may be different from the starting price displayed.