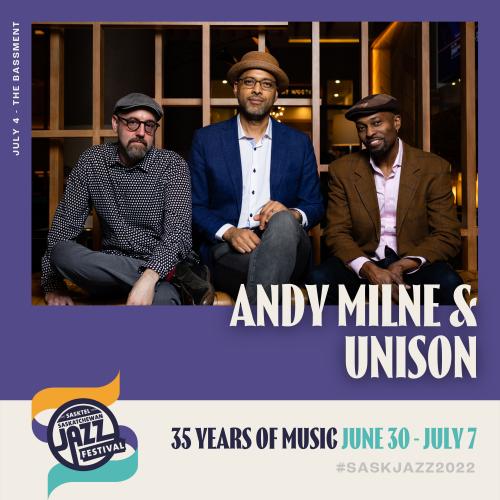 SaskTel SK Jazz Festival: Andy Milne & Unison
Monday, July 4, 2022
8:00 PM / The Bassment
Andy Milne and Unison
For 30 years, award-winning pianist/composer Andy Milne has demonstrated boundless versatility, collaborating with dancers, visual artists, poets and musicians spanning jazz, classical, pop, folk, and world music. With UNISON, enriched with creative insights from his multiple projects, Milne returns to his first love, exploring the intimacy of the piano trio. The synchronistic relationship Milne has enjoyed with bassist John Hébert since 2010 is matchlessly rounded out with drummer Clarence Penn, who represents complimentary threads within the fabric of Milne's piano trio philosophy -- the intersection of texture and groove. Their 2020 debut recording, "The reMission", released on Sunnyside Records won them 2021 JUNO Award for Jazz Album of the Year: Group. The recording also received widespread media praise.
Interested in staying up to date on all things SaskJazz? Newsletter signup here!
Prices shown indicate where pricing starts. Pricing for specific seats may be different from the starting price displayed.