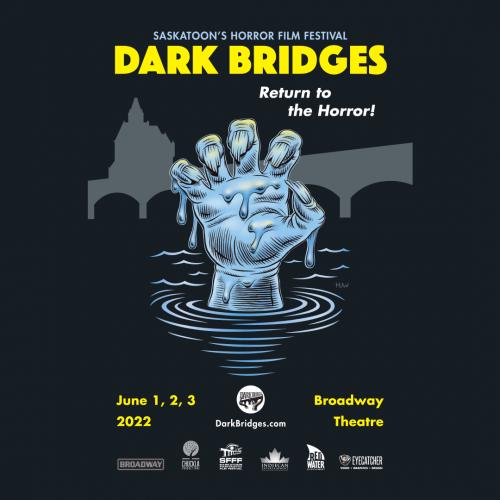 DARK BRIDGES FILM FESTIVAL (ALL ACCESS WRISTBAND - 19+)
Wednesday, June 1, 2022
6:00 PM / Broadway Theatre
DARK BRIDGES All Access Festival Wristband
The All Access Festival Badge is good for all screenings at the 2022 Dark Bridges Film Festival June 1st through 3rd at the Broadway Theatre.
Wednesday June 1, 2022 6:00 pm WHAT JOSIAH SAW 8:15 pm PIGGY 10:15 pm SHOT IN THE DARK Thursday June 2, 2022 6:00 pm WATCHER 8:00 pm HATCHING 10:00 pm MIDNIGHT Friday June 3, 2022 6:00 pm SALOUM 7:45 pm Special Event – Short film screening of the Sakatoon made THE DRUID'S HAND with cast and crew. 9:30 pm To Be Announced Shortly Midnight SEXYKILLER: YOU'LL DIE FOR HER
Wristbands will be available in person at the theatre prior to each screening.
The All Access Festival wristband is $90 or $60 for Saskatoon Fantastic and Broadway Theatre members. Discounted passes will be available with SFFF membership badge at the Broadway Theatre during business hours. If you do not currently have a membership you may purchase the lifetime (as long as you keep the tag) membership for $25 at the same as purchasing the badge (not available online).
Prices shown indicate where pricing starts. Pricing for specific seats may be different from the starting price displayed.