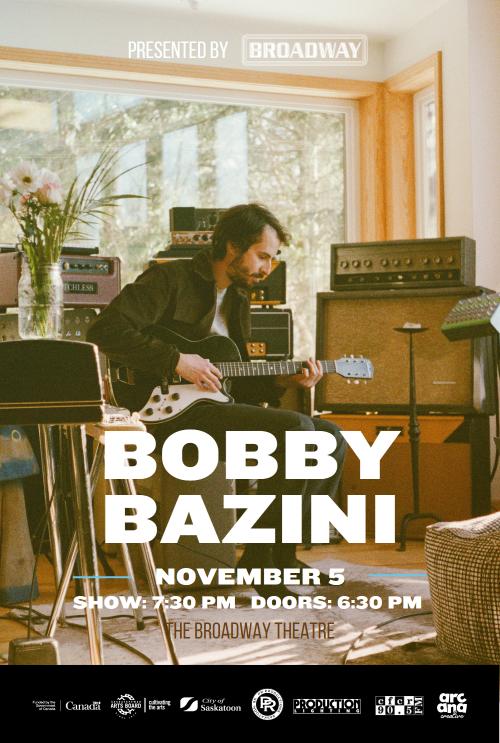 Bobby Bazini
Sunday, November 5, 2023
7:30 PM / Broadway Theatre
Show at 7:30PM. Doors open at 6:30PM. All Ages.
After a decade in the spotlight highlighted by two JUNO® Award nominations, multiplatinum success, tens of millions of streams, and sold out shows, a period of reflection gave rise to Bobby Bazini's 2020 fourth full-length album, Move Away [Universal Music Canada]. At a time when most are questioning the road previously travelled, the Quebec singer songwriter has been taking stock of his journey thus far and the growth he has experienced both personally and artistically whilst keeping one eye on the road ahead. Throughout this process, he was challenged to evolve and in doing so has delivered an endearing and emotionally charged body of work cognizant of where he came from whilst pointed towards a brighter future.

"I was reflecting on the past ten years," he admits. "So much has happened. When I started, I was 19-years-old and didn't have a career or a steady relationship. It's now exactly ten years that I've been an artist and also been with my girlfriend. The two almost began simultaneously. That was a crazy decade. At that time I remember how restless I could become with moving my career outside my home province, instead of enjoying all the incredible things that were happening on my front doorstep. Today I look back and I wouldn't change a thing. I'm here, doing what I love to do with my significant other by my side. With each album, I know I go a little further and Move Away is that next step."
Prices shown indicate where pricing starts. Pricing for specific seats may be different from the starting price displayed.