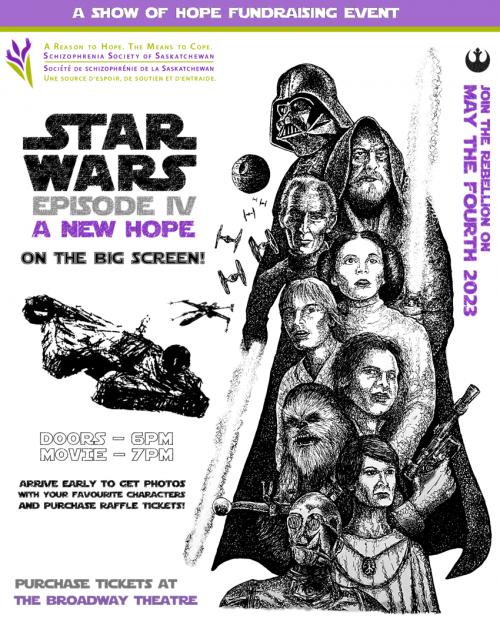 Star Wars Episode IV: A Show of Hope Fundraising Event
Thursday, May 4, 2023
7:00 PM / Broadway Theatre
Presented by Schizophrenia Society of Saskatchewan!
May the fourth be with you, at this exciting screening of Star Wars Episode IV: A New Hope! Join us for our Show of Hope Fundraising Event to gather with family and friends, all while supporting the Schizophrenia Society of Saskatchewan's essential Mental Health programing available across the province.
Here at the Society, we offer folks: "A reason to Hope", and as you know, one of the central themes of Star Wars is "Hope". And so, this feels like a match made in the stars! Be sure to arrive early to get a chance to take photos with Star Wars characters, enter our raffle, and learn a little more about the Society and what we do. Activities begin at 6:00pm and the show starts at 7:00. For more information about our organization please visit our website.
Prices shown indicate where pricing starts. Pricing for specific seats may be different from the starting price displayed.