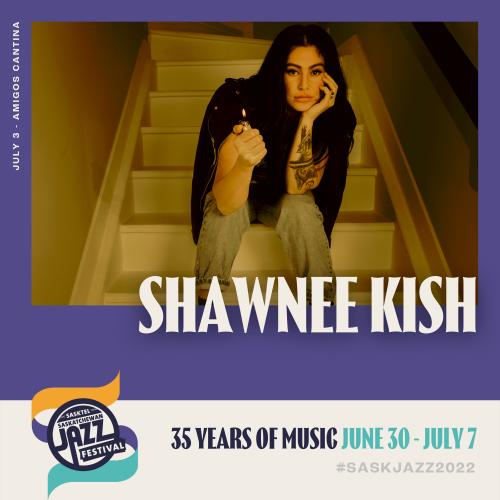 SaskTel SK Jazz Festival: Shawnee Kish
Sunday, July 3, 2022
10:30 PM / Amigos Cantina
Shawnee Kish
Named the winner of CBC's 2020 Searchlight talent competition, Shawnee Kish has been celebrated as one of North America's Top Gender Bending Artists (MTV), named by Billboard as an Artist You Need To Know and continuously uses her music to empower. An outspoken advocate for her Indigenous and LGBTQ2+ communities, she is a proud Two Spirit Mohawk who has shared the stage with some of the world's biggest names — Lady Gaga, Madonna and Alicia Keys to name a few. 2021 will see Shawnee release a new EP that addresses her personal struggles over the past twelve months — "The‌ ‌main‌ ‌theme‌ ‌will be ‌lighting‌ ‌up‌ ‌what‌ ‌use‌ ‌to‌ ‌be‌ ‌and‌ ‌getting‌ ‌on‌ ‌with‌ ‌what‌ ‌is‌ ‌now.‌ ‌The‌ ‌songs‌ ‌represent‌ ‌becoming‌ ‌yourself,‌ ‌finding‌ ‌out‌ ‌where‌ ‌you‌ ‌were‌ ‌was‌ ‌not‌ ‌where‌ ‌you‌ ‌wanted‌ ‌to‌ ‌be‌ ‌and‌ ‌full‌y ‌embracing‌ ‌that‌ ‌in order to let go. ‌Light‌ ‌the‌ ‌Place‌ ‌up‌, ‌even‌ if it's ‌unintentional" — and hopefully, return to touring. She will also continue her work with the We Matter Campaign and Kids Help Phone in hopes of empowering youth, providing strength and hope through music.
Interested in staying up to date on all things SaskJazz? Newsletter signup here!
Prices shown indicate where pricing starts. Pricing for specific seats may be different from the starting price displayed.