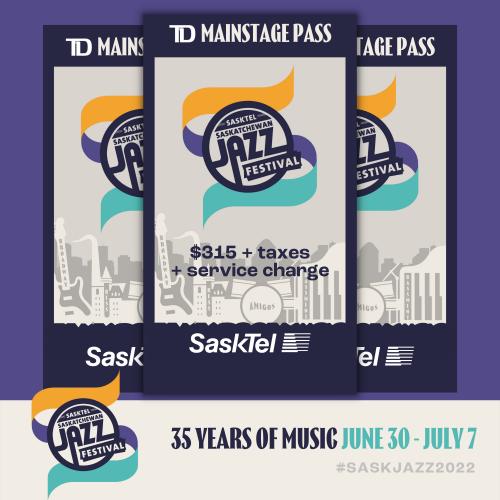 SaskTel SK Jazz Festival: TD Mainstage Pass!
Thursday, June 30, 2022
12:00 AM / TD Mainstage, Bessborough Gardens
Here by popular demand, the SaskTel Saskatchewan Jazz Festival is proud to announce the TD Mainstage Pass! For the most dedicated and passionate music fans, the TD Mainstage Pass guarantees admission to all ticketed performances at the TD Mainstage, Bessborough Gardens during the 2022 SaskTel Saskatchewan Jazz Festival.

Your TD Mainstage pass will be completely transferable, meaning you can share the pass between friends and family. At a cost of only $315 (+ GST & service fee), the TD Mainstage Pass allows you to experience more while saving those hard earned dollars. A limited number of TD Mainstage Passes will be available for purchase. Purchase in advance to avoid missing out!

* The TD Mainstage Pass is for performances at the TD Mainstage, Bessborough Gardens only and does not grant access to shows at other festival venues.
Rules:
TD Mainstage Pass will be considered void if found to be altered or tampered TD Mainstage Pass must be presented upon entrance All sales are final—no refunds, cancellations, or exchanges The Saskatchewan Jazz Festival does not endorse third party sellers. Purchases made via third party sellers are done at your own risk The Saskatchewan Jazz Festival will not provide support for passes purchased from a third party seller TD Mainstage Pass is transferable TD Mainstage pass admits one entry per show *TD Mainstage Passes available until 11:59pm on Wednesday, June 29th, or as quantities last.
Interested in staying up to date on all things SaskJazz? Newsletter signup here!
Prices shown indicate where pricing starts. Pricing for specific seats may be different from the starting price displayed.